Our JEANS REPAIR Undercover Patches have been designed for when you want to repair a hole in fabric from underneath.
IMPORTANT – NEW LOWER TEMPERATURE ADHESIVE.  We are in the process of introducing a new and improved lower temperature adhesive to all of our iron on patches. This means the instructions may differ from pack to pack until the roll out across the full range is completed.  Please use the temperature guide in the pack insert for best results as the instructions below can give a general guide only.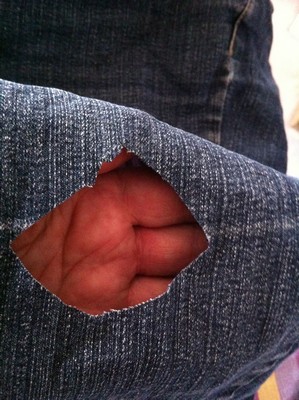 Patches are available in denim – Faded, Mid and Dark Blue, Black and Grey, as well as light and medium weight cotton prints and white lace. Custom orders for other fabrics available on request.
 Ensure your patch is large enough. It's essential to have plenty of margin around the hole you need to repair so there is adequate room for glue coverage. There should be no adhesive showing through on the right side of the fabric when the patch is in position.  Patch kits come in three sizes, Small (max 3cm tear), Medium (max 6.5cm tear) and Large (max 10.5cm tear).
As an example, the white square pictured looks pretty large, but it would not be wide enough for the aperture unless placed diagonally. If the hole or tear is untidy and you want to cut a more uniform aperture, take this into account when ordering the correct patch size.
Peel off adhesive backing paper from the Jeans Repair Undercover Patch. You should clearly see the layer of glue coverage around the edges once you've removed the paper.
Place fabric patch behind the hole in the garment face up.   Make very sure that there is no glue showing around the edges of the aperature as this could  stick to the hot iron and make a mess.
With a Medium (2 dots) to Hot (3 dots) dry iron, press over the hole briefly for initial fix, then press for 20 – 60 seconds from both sides of the repair, paying attention to the edges of the glued area, until a good fix has been achieved.
The finished repair.  Providing your Reverse Patch has been applied correctly, the glue used for it should give a good fix for items washable at 40 degrees without further sewing, However, tumble drying with heat will loosen the bond as will regular heavy use.
Therefore, for a better finished appearance and maximum strength through many washes and wears, we always recommend sewing around your repair by hand or machine. 
Pictured here are examples of a running stitch using contrast embroidery floss.  Or why not add a chain stitch or other decorative embellishment.
*Tumble drying is not recommended for unstitched patches. Stitching is required for:
– Garments which will be tumble dried with heat
– Heavy duty items that are frequently laundered
– Loose weave, textured, napped or moderately stretchy fabrics.
– An improved finish and appearance on any garment
– Longevity of the repair on any garment
Our patches are not suitable for
Nylon, fabrics with waterproof or special finishes or very stretchy fabrics
Latest additions to our Jeans Reverse Repair Peekaboo range