As well as my range of iron-on fabric patches, I also offer a growing range of great quality pre-owned and vintage clothing and I thought it might be fun to write an account of how these garments are prepared for sale.
Where does my clothing come from?
Lots of people ask me if I would be interested in buying secondhand clothes from them, and yes I'm quite often looking to restock good quality branded garments. I rarely buy items individually though, unless it's a special vintage or a one-off piece. Instead, I purchase in bulk and pay a set amount per kilo (a large filled bin bag is roughly 10 kilos). I have a small but growing network of people who like the convenience of passing on their once loved clothing in this way. If you're interested in joining them,
message me
for details.
Sorting through
When a batch of items arrive, they are sorted into size and season, and any off season items are stored to be dealt with later.
Inspecting
I tend to work on a batch of the same size in one go as it's easier to list similar sizes in bulk.  I go though each pile separating items by the cleaning care they need, and hooking out any pieces that may need repair.  Occasionally there will be items that are not saleable, they may be damaged or stained or may simply look washed out.  These will go for upcycling or the fabric is harvested for new purposes.
Cleaning
Every garment I send out has been thoroughly cleaned so it's pristine and fresh when you receive it. I try and use natura
l products when I can but for some things, the big guns are needed, and I figure that if it gets a piece back into use, that's the environmental pay-off. My favourite helper is my steamer which is utterly fantastic for rejuvinating dry clean only items, but I have also learned a few tricks for removing marks and stains which I'm happy to share with you – just comment and I'll help if I can.  Leather, suede and silk can be challenging to deal with but often there's a solution after a little trial and error.
Repairs
My mum was a tailor so I have plenty of sewing experience but tend to keep the repairs I do to a minimum due to the time they take.  I will happily alter hemlines on skirts and trousers though, as this is pretty simple, so if you see a skirt you would like if it was shorter, do ask as that can usually be easily done.
Photographing
Once a batch of garments have been cleaned (and ironed if appropriate) it's time to take photos.  This is my biggest challenge in many ways, as light conditions can be trying when you want to get a true representation of a garment's colour.  I generally take at least half a dozen photos of different views of a garment to ensure you can see as much detail as possible.  Should any flaws in the item become apparent, they will be noted and  photographed so you know exactly whan you are buying.   After the photos are cropped and edited for size, they go into a folder ready to add to listings on my website.
Listing
Photos in hand, it's time to write the listing, giving a full description, including, vitally, measurements.  Clothing sizes are notoriously variable and it's so disappointing to buy online only to find that the item doesn't fit as expected.  I always give as many measurements as I can and I think the low number of returns I get reflects this. My prices are calculated on a sliding scale taking into account whether an item is a high street brand, designer or vintage and its condition.  I'm not a brand snob, so as long as a piece is good quality and well made, I'm happy to sell it.  I've seen very badly made designer pieces, and surprisingly good budget brand items, so I go with my gut on whether I think someone would be pleased to receive it. What I charge is broadly in line with online charity shops, and being able to view all my stock online filtered by clothing size, means you can get an up to date list at any time.  I also offer a returns service so you can buy with complete confidence.
Stored Ready to Send
After a listing is live on my website, the item is stored by size so it can be easily found for despatch after sale. This is the time that photos are shared on social media, and possibly sales channels other than my website.
Sold!
Once a garment has been sold, it is posted within three working days – I usually try to send it same day if I can.  I want you to be excited about receiving your purchase, and there's nothing like receiving an item carefully wrapped in tissue paper to make it feel special and 'like new'.  Happy to say that all the packaging I use to send out clothing orders can now be recycled.  Even better, if you're local to the Banbury area, you can also save on postage by arranging to collect your order in person.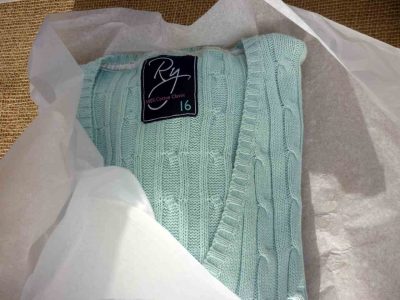 So, that's about it; a little insight into the time and care I like to spend to make sure you're thrilled with your purchase.  Hope you enjoyed it. Why not have a look to see what's in stock at the moment
here
.