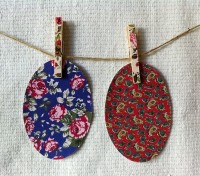 Vintage-Patch has just introduced a new 'no sew' iron on adhesive for our latest patch designs, like the ones pictured on this page, and I'd like to offer some to our blog fans to test for themselves. We are offering 1 set per every 25 people who apply by commenting on this post, so do share this info to increase the number of sets up for grabs.
To take part, all you need to do is
1. Leave us a comment on this post telling us why and how you'd use a no sew patch.
2. In your comment, paste a link to the patches on our Product Page that you like the best. (Not all our designs are available in 'no sew' yet, so your comments will help us to choose the most popular fabrics to work on first).
That's all.
Closing date for posts is 6pm GMT on Sunday 23rd June. The chosen testers will be announced on this page the following week. We will ship the test patches worldwide.
*Testers will be asked to send us a photo of how they've used their patches for our gallery.