Description
Jeans Reverse Repair Undercover Patch Blue Trailing Rose. 100% Cotton.
Quantity:  Single Pack
We have designed our Jeans Reverse Repair Undercover Patch for when you want to repair a hole in fabric from underneath so the patch shows through to the right side of the repair.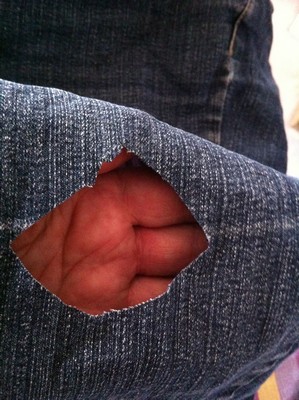 Simply turn the garment inside out, remove the paper backing from the glued margin of the patch, place it into position and iron on with a hot dry iron according to the pack instructions.  For extra durability and an attractive finish, you can over stitch by hand or machine to give a permanent fix.
*You may not need to sew some fabrics – please see our Patch Tutorials or instructions in the pack for further information.

We handmake our unique patches and motifs from a variety of  vintage inspired, authentic vintage or reclaimed contemporary fabrics.
Size Guide:
SMALL suitable for max 3cm diameter tear (total width 6.5cm)
MEDIUM suitable for max 6.5cm tear (total width 10.5cm)
LARGE suitable for max 10.5cm tear (total width 15cm)